ICU MonitoringStudy results can be reviewed remotely
Long Term EEG Monitoring Solutions for the ICU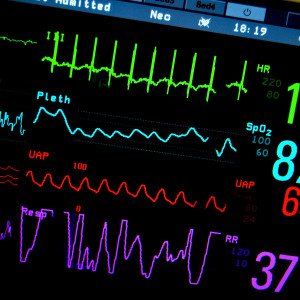 Physician demand for continuous EEG (cEEG) monitoring of ICU patients is putting a tremendous amount of stress on already overworked EEG and ICU department staff members. The clinical advantages of utilizing EEG for assessing brain function in ICU patients has been well established in medical literature, especially in the last decade, therefore, the demand for cEEG has grown significantly. In fact, there is now an overwhelming amount of irrefutable medical evidence that documents the various areas where cEEG monitoring provides critical information into the brain function and complications affecting many critically ill patients. The recognition, diagnosis and treatment of status epilepticus, convulsive and non-convulsive seizures, is by far the most important benefit of continuous EEG monitoring in the ICU setting. Thankfully many recent advances in digital EEG technologies are now making broader application of cEEG in the ICU possible.
United Neurodiagnostics provides a full menu of EEG monitoring services to ICU's including cEEG with remote log in and spectral analysis. This allows our technicians and interpreting physicians to quickly assess changes in the EEG as they occur. Our systems allow data to be viewed continuously in real time and is backed up with a recorded loop memory. By being able to view a looped recording of an event, technicians and physicians have the benefit of being able to replay and analyze the onset and development of any abnormal neurological activity. Our technicians assisted by specialized seizure detection software provide alerts to clinicians of any acute brain event, including seizures, ischemia, increasing intracranial pressure, hemorrhage, and even systemic abnormalities affecting the brain, such as hypoxia, hypotension, acidosis, and others with an incredibly low rate of false positives. Neurologist and Intensivists can identify when the brain is at risk for injury or when neuronal injury is occurring and intervene before there is permanent damage when cEEG and neuro-physiological data from multi-modality brain monitoring is utilized.
EEG in the Intensive-Care Unit: Brain Function Monitoring
To monitor for non-convulsive seizures/non-convulsive status epilepticus
To monitor the effect of sedative/anesthesia in patients in medically induced coma (for treatment of refractory seizures or increased intracranial pressure)
To monitor for secondary brain damage in conditions such as subarachnoid hemorrhage
RSC makes incorporating long term EEG monitoring in the ICU/NICU simple. One call to us, and the entire program is in place. There is no need for the facility to employ highly specialized personnel or purchase expensive diagnostic equipment. RSC is a complete outsourcing service for cEEG. Our services include staffing and equipment. When needed, we have a team of neurologist including epileptologist that can provide interpretations or oversight and secondary reads. RSC is very accustomed to working with and utilizing local neurologists when available to provide the professional interpretations, and we look forward to making these new relations.
Our system and services have been designed from the outset to be easy to use and effective for interpreting Physicians 
Study results can be reviewed remotely via secure online access from office, hospital or home, or anywhere in the world with internet connectivity.
Clipped results available within 48 hours of study completion
cEEG services allow for review with visual and auditory data before, during and after a neurological event
24-, 48-, 72-, hour service available upon request
Our plans are simple. We have easy to understand terms and reasonable rates. Call us or email us today to find out how you can begin providing long term bedside monitoring in your ICU tomorrow.
Related Articles and Information
For additional ICU EEG Monitoring information, please click on the article link below:
Link???